APEXAGRI

• Agriculture • Performance • Expertise
Creating, developing and optimizing agri-food chains
APEXAGRI delivers targeted, specialist solutions to clients in all chains of the agri-food industry.
Our tailored approach ensures the success of your projects :
Advanced agricultural techniques
Streamlined cooperation between collaborators
Economically viable and competitive projects
Adaptability to local contexts
Responding to the needs of every actor in the agri-food industry

Our expertise and ethos
APEXAGRI offers targeted agricultural development solutions to public and private chain clients. Our dedicated team of experts is committed to helping clients :
Manage the qualitative and quantitative security of supply
Build profitable agri-food chains and high-performance local economies
Achieve sustainable agricultural development that supports local populations
Address issues related to climate change
We believe that the challenges resulting from global demographic growth can only be overcome by developing sustainable agricultural and food supply chains.
Our Projects
Key areas of intervention:
Selected clients :
Agrihold - Morocco

Agricultural competitiveness assessment
Danone - North Africa

Breeding and feeding practices optimisation
FinanceCom - Morocco

Return to profitability of large scale farming activities
Centrale Danone - Morocco

Optimization of crop production on a dairy farm
FIRCA - Ivory Coast

Diagnostic study of the maize and soy bean sectors
We guarantee our clients
Depth and Diversity of Expertise
Our experts' highly developed skill-set and diverse fields of expertise ensure clients get the innovative and sustainable solutions they need.
International Reach
Our teams are comprised of internationally qualified professionals from the agricultural and consulting sectors. Favoring a hands-on approach, we endeavor to work onsite with clients wherever they are.
Objective and Targeted Solutions
As a joint venture between an agricultural cooperative and a global consulting firm, APEXAGRI prides itself on offering flexible collaboration options and objective advice tailored to the development strategy of each client.
Expert Partnership Development
As specialists in partnership relations, we ensure streamlined communication and cooperation between industry collaborators.
Our team
The APEXAGRI team is comprised of experienced professionals from the agri-food industry, business consultants specialized in partnership development and international experts who provide on-site consultation as and when required.
All our team members share the same ambition: to develop successful and sustainable agricultural chains.
We work with a range of clients worldwide, and have notable experience in:
West and East Africa
The Middle East
Eastern Europe, Ukraine, Russia
Our multicultural teams work in a range of languages (English, French, Spanish, Arabic, Russian, etc.)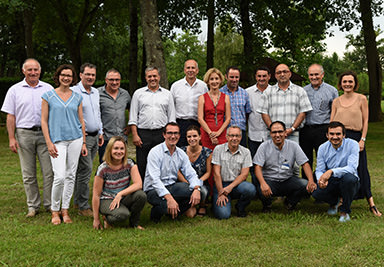 Selected APEXAGRI Expert Profiles
Agronomy, environment and agricultural experiment Manager

Section manager of a coop agronomy department (130 000 ha - 8 000 farmers), expert in innovative agricultural techniques
Crop production, training program management, specialist in agricultural best practices
Western Europe, North Africa
French, English
Agronomy Manager

Farmer network management and training, certified crop advisor
Field vegetable production, farmer network management, technical advice
Northern Africa, Western Europe
French, Arabic, English
Marketing Director

Development of agricultural sectors (seed sector, irrigation sector, …), product service systems management
Crop production (maize, sunflower,etc.), marketing, agricultural and hydraulic engineering, project management
Europe, CIS, Africa
French, English, Spanish
Forage Production Engineer

Expert in animal nutrition and crop production, technical advice and training on animal nutrition
Animal nutrition, forage crop, technical training
Eastern Europe, CIS, North Africa
French, English, Russian
Poultry farming Advisor

Technical advisor specialized in quality assurance requirements
Poultry farming, agricultural production under recognized quality label, consultancy services to farmers
Western Europe
French, English
Business relations Consultant

Strategic partnership development Change management in the public and private sectors
International partnerships, operational project management, sourcing, supplier auditing
Europe, Asia
French, English, Spanish
Business strategy Consultant

Negotiation expert, investment strategy analysis
Negotiation expert, business ecosystem development, mergers & acquisition support
Asia, Europe
Mandarin, English, French
Engineer in agri-food sector development

Agricultural and food sector organization services, agro-economic analysis of industrial projects
Liaison with public and private organization stakeholders, international project management
Europe, Africa, Latin America
French, English, Italian
Join the APEXAGRI Team Careers
Contact
For more information on our projects and services, please contact the APEXAGRI information desk:
info@apexagri.com
FRANCE

38 Rue de Ponthieu
75008 France
Tel : 0033(0)149249967
MOROCCO

Rabat Souissi Business Center
571, Av. Mohammed VI, Immeuble Mathis
Bloc A 2eme étage – Souissi
10000 – Rabat. Morocco
Tel : 00212 538-00-69-08
Contact :

Anaïs RIFFIOD


Marike BRÉZILLON