Wastewater: a valuable resource for agriculture
Wastewater in agriculture: a valuable but risky resource?
Due to global warming, many countries such as Egypt, Mexico and the USA are facing water scarcity. In addition to population growth and increasing water demand, food production is expected to grow by 50% in 2050 while 70% of worldwide freshwater withdrawals are already dedicated to agriculture.
Domestic and industrial wastewaters are still underutilized whereas they could become a goldmine for farms (as a source of a rare resource).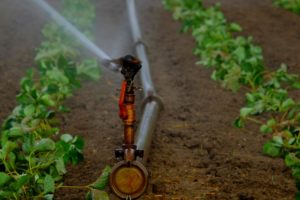 They contain nutriments, useful for agri-food production, but also pathogens, heavy metals and toxic organic compounds. Using wastewaters could cause health risks for farmers, local communities and consumers.
Thus, properly treating and using wastewater is a real challenge for many countries.
Wastewater great potential has been reaffirmed during the « Global Forum for Food and Agriculture »
Those issues have been discussed by farmers, scientists and worldwide decision makers during the « Global Forum for Food and Agriculture » (GFFA) which took place in Berlin from 19 to 21 January 2017. This annual conference gathers stockholders of all types to discuss issues affecting agriculture.
Last edition focused on "Agriculture and Water – Key to Feeding the World". Speeches such as "From toilet to table: how wastewater can contribute to food security?" or "Innovative regional and national approaches to efficient water use in agriculture in Africa" have enlightened challenges and impacts of wastewater treatment, management and use to irrigate crops.
M. De Souza, senior officer with FAO's Land and Water Division, said "when safely used and managed to avoid health and environmental risks, wastewater can be converted from a burden to an asset."
We are waiting for written conclusions of the whole conference.
Some examples of technologies and approaches to optimize wastewater management in agriculture
In Egypt, water supplies are limited and highly contaminated. The country is exploring options such as wetlands to treat wastewater before using it, mainly in agroforestry projects.
R&D European project called MADFORWATER has been launched (as part of the EU program Horizon 2020), in June 2016 for 4 years. It is dedicated to "the development of technological and non-technological solutions for the management of water resources in Tunisia, Morocco and Egypt". The aim is to produce irrigation-quality water from wastewaters to increase agriculture efficiency in North Africa.
Thanks to that kind of initiatives, we will surely assist to the development of large scale new agricultural practices in the following years.
Wastewater start being considered as an answer to food insecurity, thus creating jobs, decreasing environmental impacts and leading to the development of many initiatives, especially in Africa.