Russia: a booming poultry market since 2014
Two major events over the past years have forced the Russian Federation to severely decrease its food imports, due to the international sanctions following the Ukrainian crisis and the depreciation of the ruble.
Development of a self-sufficient poultry production between 2014 and 2017
Therefore, Russia has had to increase its own general agricultural production capacities to develop self-sufficiency. The poultry industry has been boosted for the last 3 years thanks to huge private and public investments. For example, the poultry producers have heavily invested in genetics and new technologies leading the Russian market to reach new export capacities.
Vladimir Putin himself has announced last June that Russia "has significantly reduced [its] imports, [its] own production, for example of pork and poultry meat, and now almost completely covers [its] needs." (as a record, 60% of the Russian poultry meat consumption was imported in 2014). According to USDA's estimates (United States Department of Agriculture), the poultry sector is "the strongest production growth among the product groups covered by the embargo (+24.6 per cent in the years 2013-2016)".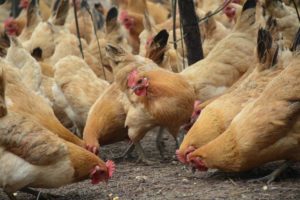 Strong public and private investments to shape the Russian poultry sector
The following examples show that the whole value chain – including the crop production – is strengthening:
Prioskolye (poultry producer leader) has signed a partnership with Krasnaya Yaruga Crops Company since 2017. Both companies are working together on seeds development projects and soil conservation improvements.
The newly implemented program "Development of poultry in the Novosibirsk region for 2014-2020" plans to increase poultry meat production. For now, it has led to the construction of two large production / meat processing plants; the Ulybino site which is expected to produce 17,000 T of duck meat per year and another turkey meat processing plant which will reach 10,000 T/y by 2020
The construction of a large agro-industrial complex in Novokuznetsk started in 2015. It is supposed to produce 45,000 tons of meat per year by 2020 and will be enlarged with new facilities such as compound feed mill, drying-sorting complex, artificial insemination center, residue utilization plant…
Those illustrations highlight, among other plant modernization and construction of agro-industrial complexes since 2014, the fact that Russia has been quickly able to develop its poultry sector, from a strong exportation dependency to self-sufficiency.
Apexagri's expertise: value creation & optimization at all stage of the production process
Addressing challenges related to those business development is one of our main expertise; in France, in the CIS countries or in Africa. Apexagri support projects at every stage of the production process, to maximize the efficiency of each stakeholders and the synergies between them.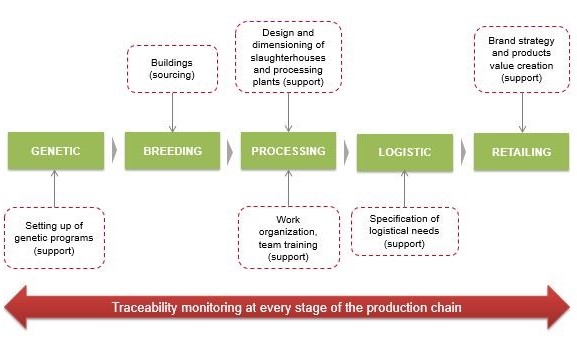 Our expertise also covers value creation and new products development of existing product ranges through the creation of high quality products such as Label Rouge certified poultry.